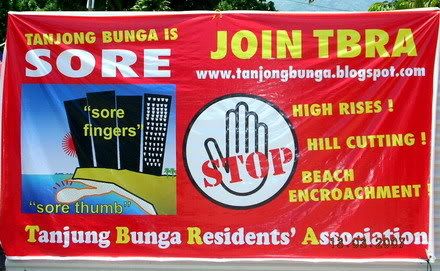 Four "sore" fingers and one "sore" thumb. Now a "sore" backside behind Pearl Hill !
"The Cove" (a 4-block, 42-storey supercondo, starting at 6-floors above sea level) may well be Penang's second tallest set of buildings, about 50% taller than the Gurney Drive condos of 30+ floors (sea level), and nearly as high as Pearl Hill. Ask any tourist and they will tell you it is an eyesore in the landscape. There are at least 4 more plots in Tanjong Bunga that can become copycats if supercondo project approvals by the government become routine. If they do, the beach resort of Penang will be no more than a concrete jungle.
The latest banner by the Tanjung Bunga Residents' Association (TBRA) also shows that ugly "sore thumb" reclamation project just next to "The Cove". It had no approval sign posted and is illegal. The "thumb", sticking out into the sea, was built by thousands of trucks dumping rocks up to April 2006 when a stop-work order was issued. TBRA has asked for it to be restored to its pre-2006 state and turned into a public park. So much of the beach is no longer accessible to the public, it is time that some of it is returned.
Currently pending before the State Planning Appeals Board is the question of a construction project near the Mount Erskine Reservoir. A selfish developer wants to build 25 three-storey houses on a steep hillside just below the red-roofed Pearl Hill Townhouses. These sit balanced on stilts that rest rather precariously on the hillside. Clearly if there is digging and clearing for the new houses below the Pearl Hill houses will risk tumbling down…and Penang will have its very own Highland Towers ' disaster.
When the Townhouse inhabitants went to plead with the authorities to deny building approval because they fear for their lives, the developer's architect said: "We all have to die some day"*. It is unacceptable that developers gamble with people's lives. Yet, the MPPP went ahead an approved the project in early December 2006. The Pearl Hill Townhouse residents launched an appeal and collected nearly 2000 signatures in support. TBRA is very concerned about this project and will hold the Council responsible for any disaster that may occur.
Tanjong Bunga is Sore, indeed.