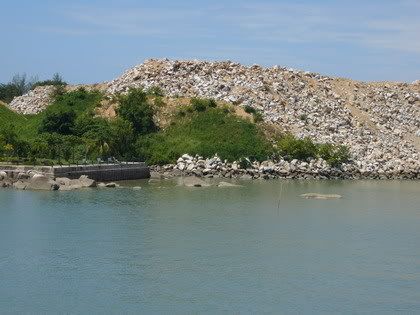 Sore thumb : future park for Tanjong Bunga?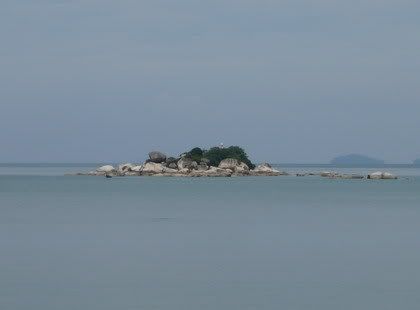 View of Pulau Tikus, landmark of Tanjong Bunga.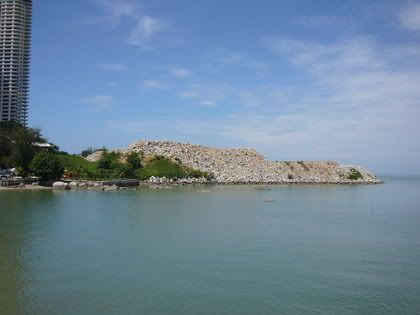 Sore thumb : environmental and visual disaster.

Tourism Malaysia has earmarked the year 2007 as
VISIT MALAYSIA YEAR 2007
with a multi-million ringgit marketing campaign. It was timely that a seminar "Marketing Tourism for Penang" was held on 7 November 2006. Organised by Socio-Economic & Environmental Research Institute (SERI), the seminar provided a forum for the players in the tourism industry in Penang to present their views and ideas for the growth of the industry.
Tourism is the second most important economic sector in the State. According to the experts, Penang's main selling points are its multi-cultural heritage, the food culture and eco-tourism. I was particularly intrigued by this term "ecotourism" that was used but not clearly defined. According to wikipedia encyclopedia, ecotourism focuses on local cultures, wilderness adventures, volunteering, personal growth and learning new ways to live on the planet. It is typically defined as travel to destinations where the flora, fauna, and cultural heritage are the primary attractions. Ecotourism promotes sustainable development, minimizing adverse impacts on the natural environment.
At the Q&A session, I raised the point that tourism policy in the State has conflicting aims with its physical development, as shown in the case of Tanjong Bunga which is designated as a tourism industrial zone but skyscrapers are being allowed on the sea front. The State Exco member in charge of Tourism Development and Environment, conceded that sometimes policy at the State level are overlooked by the Municipal Council. One of the speakers pointed out that Penang is a tropical island and it should look after its assets: its beaches and sea. Dr. Yee, the CEO of SERI, said that even though Penang's fame as a seaside resort has been overtaken by Langkawi, Phuket and Bali, there is still an "existence value" (of its sea anad beaches) which should be preserved.
It should be made clear to our decision-makers that we cannot have our cake and eat it, i.e. if we want to promote eco-tourism, we have to take care of our natural and cultural heritage.
note: Lim Hooi Siang attended the Penang Tourism Seminar as a SERI Associate.