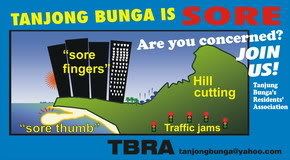 Our last update told you about the presentation of 280 signatures to the MPPP and the Tanjong Bunga Assemblyman. This newsletter will tell you more about what has happened since but first: Know there will be a Forum on 27 Aug. This Sunday morning! Details under 3 below.
Meeting with ADUN and MPPP President
A small number of us met the President of MPPP at his office in KOMTAR to present him with the memorandum drafted by the TBRA. He would raise all the issues in it with his staff and get back to us. He agreed to a meeting with the TBRA after that. The office of Tan Sri Koh Tsu Koon replied agreeing to a dialogue at a date to be determined.
Since then two more Committee meetings were held and a number of decisions taken:
1. Reply to Tan Sri Koh Tsu Koon (see attached)
Both MPPP and TB Assemblyman have agreed to meet with our Association but no dates have been set. It gives us time to get better organised and prepare. The reply to Dr Koh Tsu Koon explains that TBRA wants to discuss a number of issues and gives the example of the "sore thumb". This is one project that was also specifically mentioned in the Memorandum (attached – 4 pages). TBRA would like to see this illegal reclamation restored to its 2005 state and turned into a public park so as to return some beach area to the residents.
2. Establishment of Tanjong Bunga Working Groups (please sign up)
At a committee meeting, we decided to make greater use of the expertise available in TBRA as some of the people who attended the first Forum indicated their willingness to help on various issues.
We will be compiling a directory of expertise of people who are willing to volunteer some time and share their experience on issues related to Tanjong Bunga. Please put your name and the area of expertise where you can contribute :
· Planning
· Education
· Engineering
· Architecture
· Landscape
· Photography
· Nature
· Law
· Administration
· Housing development
· Environment
· Social work
· Computers and web sites
· Recycling, energy and water conservation,
· Youth and senior citizens,
· Health & security,
· Public transport,
· Recreation.
You will not need to sit on the Committee, nor attend long and boring meetings – just meet in informal advisory groups that can lead the Committee to ask the right questions, your questions, about specific projects.
Issues of some urgency.A. Technical Working Group on Penang Draft Structure Plan
The draft of the Penang Structure Plan will be exhibited soon. There are various issues which will affect us. We need to have a working group to read the report and attend the public exhibition and the public hearing so that unwanted development can be opposed at this stage. (please see earlier TBRA response to the survey Report: http://groups.yahoo.com/group/Bungarians)
B. Technical Group on Tanjong Bunga Local Plan

We learned that this is in its final stages. This would have greater consequences for us. When this ready for public comment, we would need people to scrutinize the Local Plan, and possibly present a different vision of what we want TB to be.
C . Tanjong Bunga Development Monitoring Group
There are a number of developments proposed along hill slopes. One is the proposed development 25 units of semi-D at Solok Tan Jit Seng just below the rows of townhouses built on concrete stilts on Pearl Hill. This is very steep land and the residents above fear that landslides may occur if construction is allowed there. See date for site visit below.
There are also proposed developments in other areas. We would need people to help monitor such proposals and developments. We therefore propose to form a monitoring group and bring attention to inappropriate developments
Hill cutting was reported as a "hot" issue now with lots of newspaper articles about evidence and denials, etc. It also concerns TBRA with the Lemba Permai (Hunza) projects and the other dangerous eyesore near Taman Chee Seng. Members in those areas, please come forward to give proposals! What angle should TBRA tackle?
· Zoning in TB has been haphazard. Officially we are a "tourism zone", but most of our town is residential.
How can we keep it residential?
· Buildings have been approved in an equally haphazard way, often before the necessary infrastructure is
planned (roads, water, electricity).
· Gazetted hill land is being eyed by developers.
· Improving community facilities in TB.
We need to also put forward our suggestions on how to improve community facilities like market, library, hawker centres, bus station, open space, etc.
3. TBRA support for Gurney Drive Public Forum: Sunday, 27 Aug, 9am to 1pm
We were asked to support the Public Forum by another civil society group, the Penang Heritage Trust. We have decided to do so as the proposed developments in Gurney Drive and Kelawei Road will affect TB in terms of traffic flow, etc. Please come and contribute !
Gurney Drive/Tanjong Bunga Public Forum: 27 Aug. 9am to 1pm at the Caring Society Complex (diagonally across from the Penang Sports Club).

The title of the Forum is "Greater Transparency in City Planning". It will focus on the planned development of the former Uplands school area. Briefings will be given on the plans to build three high rise towers, how they will dwarf the heritage buildings in the area and the repercussions for traffic.
Membership and outreach
A volunteer has started to do an electronic list of our current membership (thanks to her, many more of you will be receiving this newsletter). Although email is the easiest way to reach out, we do also want to stay in touch with members who do not have or use email – where we have street addresses, we shall try to mail copies. Any other volunteers to help with this, please?
Joining forces

Several other residents committees have approached TBRA to explore ways to work together. (For example, 3 Committee members had a meeting with the Perbadanan Mt Evergreen) Condo Committees may want to join as supporting members, a loose way to keep in touch so that TBRA also knows that there are local RA's at work in certain areas. Malaysia Second Homers may also want to contribute by giving their views.
Latest: Site visit
There will be a "site visit" on Saturday 2 Sept, 10 am at Solok Tan Jit Sing. (turn in at the Tanjung Bungah School, and go till the end of the road. The proposed development is on the slope on the left.) Come and support the residents. Your street may be next for inappropriate and unwanted development."
Preparations for this will take place on Saturday, 26 Aug. 4pm at the Mt Evergreen Townhouse (Management Office, 80 Puncak Bukit Mutiara Satu.) All are welcome !